EDIT MAIN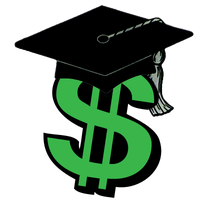 "Other Scholarships" are in addition to our local school district scholarships. The scholarships listed below may be National scholarships, scholarships offered to students who live in Iowa, and miscellaneous scholarships."
---
Transcripts
If you need a transcript for a scholarship application, please submit the online Transcript Request Form found on the sheldonschools.com webpage. If you would like to pick up the transcript from our office, check the box. Otherwise a PDF copy of your transcript can be emailed to you.
---
RaiseMe
Begin earning scholarships throughout your school career at any time. RaiseMe is an online platform and app that allows you to earn scholarship dollars based on your achievements throughout high school, such as getting good grades, and participating in other school activities, community service, etc. Dollars can be awarded as scholarships throughout your academic career.
Check out RaiseMe and see if your post-secondary school is a participant.
---
April
---
Ag Coop Safety Directors of Iowa Scholarship / Deadline: April 30, 2021
The Ag Coop Safety Directors mission is to promote a safe working environment within the local agricultural organizations, as well as the advancement of agricultural safety personnel through continuing education and professional networking.
The Ag Coop Safety Directors of Iowa Scholarship will consist of a one-time disbursal of up to $1500 to the recipients selected college or university in the Fall 2021 Academic Semester.
High school seniors planning to major in an Ag or Safety related field are eligible to apply.
---
May
---
The kia great unknown scholarship / application deadline: may 5, 2021
Kia Motors America, Inc. has established a scholarship program to assist students who plan to pursue a college undergraduate degree in one of the following discipline areas (STEAM):
Sciences - Biology, Chemistry, Pre-Med, Physics, etc.
Technology - Aeronautics, Automotive Sciences, Computer Sciences, Mechanical Sciences
Engineering - All engineering fields.
Arts - Design, Graphics, Architecture, Fashion, Fine Arts, Studio Arts, Motion Pictures, etc.
Math
If selected, you will receive a $5,000 award. Up to sixteen (16) awards will be granted.
---
Children's cancer connection - empowering scholarship/ May 28, 2021 deadline
The applicant of this scholarship must be directly affected by childhood cancer ( currently have or have had cancer before the age of 18.)
You must also plan to attend an accredited two- or four-year institution (trade school, college or university). Please see the website for more details: Empowering Scholarship
Application: Empowering Scholarship Application
---
2021 Elevate Scholarship Program / deadline to apply: May 30, 2021
In 2021, Elevate is offering fifteen (15) $500 scholarships to Iowa high school seniors interested in studying a manufacturing-related career at one of Iowa's 15 Community Colleges - one award will be given per college region.
Requirements:
Students must attend an Iowa Community College
Plan to pursue a degree in a manufacturing field such as Industrial Automation, Industrial Maintenance, Robotics, Tool & Die, Transportation & Logistics, Welding Technician & Technology (See the list on the application).
Complete the application & respond to the questions on the application.
Elevate Manufacturing Scholarship
---
june
---
Iowa professional golfers' associaton - charlie burkart scholarship / deadline: June 18, 2021
This scholarship is open to any graduating senior within the Iowa PGA Section or the State of Iowa. One high school graduate will receive a $1500 scholarship per year for four years at a college or university of your choice. You will need to write a self-statement of your interest in golf, and your plans and goals for the future.
To apply:
---
other scholarship resources
---
---
scholarship search warning
---
When searching for scholarships on the internet, the Federal Trade Commission cautions students to look and listen for these tell-tale signs of scholarship scamps:
"The scholarship is guaranteed or your money back."
"You can't get this information anywhere else."
"I just need your credit card or bank account number to hold this scholarship."
"We'll do the work. You just pay a processing fee."
The scholarship will cost some money.
"You've been selected by a national foundation to receive a scholarship" - or "You're a finalist" in a scholarship you never applied for.
Avoid Scholarship Scams US News
---