EDIT MAIN
Seniors! Don't miss out on Scholarship $$!
Check out the scholarships listed under High School - Guidance - Scholarships
---
Transcript Request
Seniors, if you have applied to a college/university/technical school, please fill out the Transcript Request form. Mrs. Bosma and Mrs. St. Clair will be notified. We'll mail your official transcript, which includes your ACT scores, to the requested school.
Note to students: If you need a transcript for a scholarship application, please note that on your request. I can email your transcript to you, or you may pick it up in our office. - Mrs. St.Clair
Link to Transcript Request: Transcript Request Form
---
Help wanted!
---
Mark's pump sales & Service, sutherland, IA / Help wanted!
Students with an interest in the Plumbing, Heating & Cooling Field, should contact Deb at Mark's Pump Sales and Service in Sutherland. They are looking for Summer Help, and also full-time help after graduation. Students who are serious about going into the field, have an opportunity to have their post-secondary training/schooling paid for, as long as long as they commit to working for the company for five (5) years. If interested in this great opportunity, call Deb at 712-346-7973.
---
Help wanted - llrc @ Northwest IA CC
The LLRC is looking for part-time employees to work mornings, days, evenings, and weekends. Flexible hours and a fun work environment!
For more information visit: LLRC Help Wanted!
---
McDonald's - Archway to Opportunities
Students who are employed by McDonald's have an opportunity to further their education through tuition assistance and scholarship opportunities. After 90 days of employment,) working a minimum of 15 hours a week) you can earn $3,000 in tuition assistance. To apply, text "IA120" to 38000.
---
Learning Opportunities
---
Medx rad tech careers - thursdays, april 8, 15 and 22/ Time 7:00-8:00 P.M.
Join the MedX Virtual program for three nights of exploring the wide variety of radiologic technology careers! Each session will cover 2-3 "modalities" or types of work available to radiologic technologists. Education and training for these careers will also be explored!
April 15, 7-8 p.m. Interventional Radiology Careers, Magnetic Resonance Imaging (MRI) Careers, Computed Tomography (CT) Careers
April 22, 7-8 p.m. Ultrasound/Echocardiography Careers, Nuclear Medicine Careers, Bismarck State College Sonography Program.
For more information, email: linae.enockson@sanfordhealth.org
---
NCC - Free college credit can be earned while in high school in the summer!
Funding for these courses is provided through the State of Iowa's Future Ready Iowa Initiative.
Health: CNA, Med Term, Nutrition, Human A & P, Developmental Psych
Computer Science: Online. Foundation of Information Technology, Windows Workstation Operating Systems, and Math for Liberal Arts.
Manufacturing - Classes to be determined.
Register by May 25 with your high school counselor!
---
Connection Lab (Iowa intermediary network)
Connection Lab offers a series of statewide virtual events to help students connect to valuable information about career options across the state. For more information and to register for one of the virtual events visit the website: Connection Lab
April & May Events: A Vet for All - From Big to Small, Rise to the Top: Iowa's CEO's, Build University: Operators/Developers Panel, Helping Hands: Therapy Service Careers; Delicious Didn't Happen by Accident, Masters of Design: Engineering in Iowa; Behind the Scenes: Producing TV and Video; Be Your Own Boss; Biotech: Improving Iowa's Crops, An Eye for Design; Build University: Lineman Panel.
---
Iowa college aid - spotlight on registered apprenticeships
Registered Apprenticeships connect job seekers looking to learn new skills with employers looking for qualified workers. Official Registered Apprenticeships in Iowa provide 2,000 hours of on-the-job learning and at least 144 hours of related instruction. Most employers cover the cost of classroom education, and you earn a paycheck while you learn. Examples: construction, plumbing, electrical, financial services, health care, advanced manufacturing, and food/beverage prep. Find more information at Earn While You Learn
---
FAFSA 2020-21
The Free Application for Federal Student Aid is your gateway to grants, scholarships, work-study, federal loans, and almost all other financial aid for college.
The window to file a FAFSA for the 2021-22 academic year opens October 1. Some financial aid is first come, first served, so don't wait to file! Find more information and tips at IowaCollegeAid.gov or FAFSA
PLEASE NOTE: YOU WILL NEED A LAPTOP OR DESKTOP COMPUTER, NOT A MOBILE DEVICE, TO APPLY.
---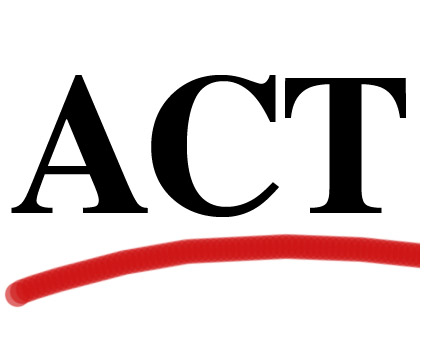 2020-21 Test dates:
| | |
| --- | --- |
| Date of Test | Registration due by: |
| | |
| April 17 | March 12 |
| June 12 | May 7 |
ACT Registration Fees in 2020-21
ACT $55
ACT + Writing $75
Check out Test Prep Tool Kit to prepare for the ACT!
---
Western iowa tech (wit) in sioux city is offering free act prep classes.
All sessions are on Saturday mornings. You can choose one subject area session to attend or you can attend all the sessions.
Please visit ACT PREP @ WIT to find out more information, dates and times of these free test prep sessions.
---
Brick layers & Allied Craftworkers - Apprenticeship programs/career opportunities and advancement / BAC Open House - April 21
High School Juniors and Seniors are invited to attend an informational meeting on Wednesday, April 21 at the BAC Training Center, 601 S. 12th Avenue, Marshalltown, IA.
Two Hour Tours available throughout the day to maintain social distancing. Your visit will include a training center tour, information on apprenticeships, benefits, pay scale and career advancement in the industry.
If you are interested in attending or have questions, please visit iwanttobeabricklayer.com
---
College Visits
The Guidance Office is available to assist with setting up college visits. We highly recommend that students visit a college campus in the fall to get a feel for the college and the programs they offer. Students should meet with an admissions representative and the financial aid office, and visit with a professor or advisor in the academic department they wish to pursue. Students should also have a walking tour of campus and a tour of the dorms. If you would like help setting up a visit, Mrs. Bosma or Mrs. St. Clair can assist you!
---
Volunteering opportunities
---
Summer of service volunteer program with village northwest unlimited / June 7-July 23
Open to students in 6th-12th grade, June 7-July 23rd (tailored to your schedule) - VNU Campus, Sheldon.
Opportunities include, helping with sports, daily activity outings (field trips), arts/crafts, campus church services and spending time with individuals served. All volunteers will be closely supervised by a "volunteer mentor." You'll receive valuable experience in working with persons with disabilities, exploring careers and potential job opportunities, high school service hours and stand out on college applications.
Download the Volunteer Application at Village Northwest Volunteer or call Brenna Haack for more information 712.324.5416
---
SUMMER CAMP COUNSELOR VOLUNTEER OPPORTUNITY/ Camp Heart Connection (children's cancer connection)
Enthusiastic individuals and groups who are interested in spending a few hours in Boone, Iowa at the YMCA Camp for children with cancer (Camp Heart Connection) can contact: 515-243-6239. Volunteer opportunities may include helping campers get checked-in, assisting campers with tie-dying, or running carnival games for families. Camp Heart Connection
---
College news
---
helpful information:
SP3 - Student Planning Pointers for Parents / Iowa Student Loan
Register now for Iowa Student Loan's free email service for parents of students in 8th through 12th grades. Receive two emails per month designed to:
Provide you with timely content, plus tips and tools relevant to your student's grade level.
Involve you in your high school student's four-year academic plan.
Help you and your students plan for education and training after high school.
Parents who participate are entered into quarterly drawings for college savings plan deposits.
---
Iowa Army National guard - Parole in place program
Non-citizen spouses, parents, and unmarried minor children of U.S. citizen members of the U.S.military (current or past) who are in the U.S. after an unlawful entry, may have an opportunity know as "parole in place" or PIP. PIP allows those who already qualify for a green card to apply for lawful permanent residence or a green card, without leaving the United States, despite their past illegal entry and stay.
Services include:
Free consultations with Immigration Attorneys
Expedited and/or Free Naturalization Process for Permanent Resident Soldiers. No Fees.
Mentorship for Minorities who join the Iowa Army National Guard. ASVAB/Education/MOS (jobs)
*This program excludes people who are already in removal/deportation proceedings or already have a final order of removal on their immigration record.
For more information, contact: Captain David Craig, Chaplain and Immigration Liaison
Office: 515-252-4469 Email: david.j.craig40.mil@mail.mil
Website: PIP Program
---
Resources to help you plan for college and life after high school
U.S. Department of Education College Scorecard
This resource gives you tips for career paths, a link to the FAFSA and more.
---
Iowa vocational-Technical tuition grant
Iowa residents enrolled in career or technical education programs at Iowa community colleges might be eligible for the Iowa Vocational-Technical Tuition Grant. The maximum award is $900 per year for up to two years of education. Part-time students might be eligible for adjusted amounts.
IowaCollegeAid.gov/Tuition Grant
---
Student Athletes Planning to Play in College
Student athletes interested in attending a Division I or II school must make application through the NCAA Eligibility Center at https://web3.ncaa.org/ecwr3/. Students must be certain that they are able to meet requirements of curriculum, GPA and ACT scores.
Student athletes interested in an NAIA school must now register at https://play.mynaia.org/.Students must meet two out of three of these requirements: earn an 18 composite ACT score, achieve a 2.0 cumulative gpa or graduate in the top half of their class.
---
Selective Service Registration
All males 18-25 (including U.S. citizens living abroad and non-citizen immigrant males residing in the U.S.) must register for the Selective Service. The Selective Service is a government agency whose job is to provide untrained manpower for the Armed Forces if there's a national emergency. You should register within 30 days of your 18th birthday. Not registering is breaking the law. If prosecuted, you could be sent to prison for up to 5 years and may be fined up to $250,000. In addition, if you fail to register, you cannot qualify for federal student grants or loans for college, job training benefits, and many state and federal laws.
Register with Selective Service at: Register
Selective Service System Registration ♦ Information Office P.O. Box 94638 ♦ Palantine, IL 60094-4638 ♦ Call 1-847-688-6888
---